Matar Paneer or Mutter Paneer Masala is a vegetarian based Indian dish that features peas and paneer in a masala or gravy sauce. It is a popular dish in Indian cooking and has been my most favourite Indian dish next to Butter Chicken.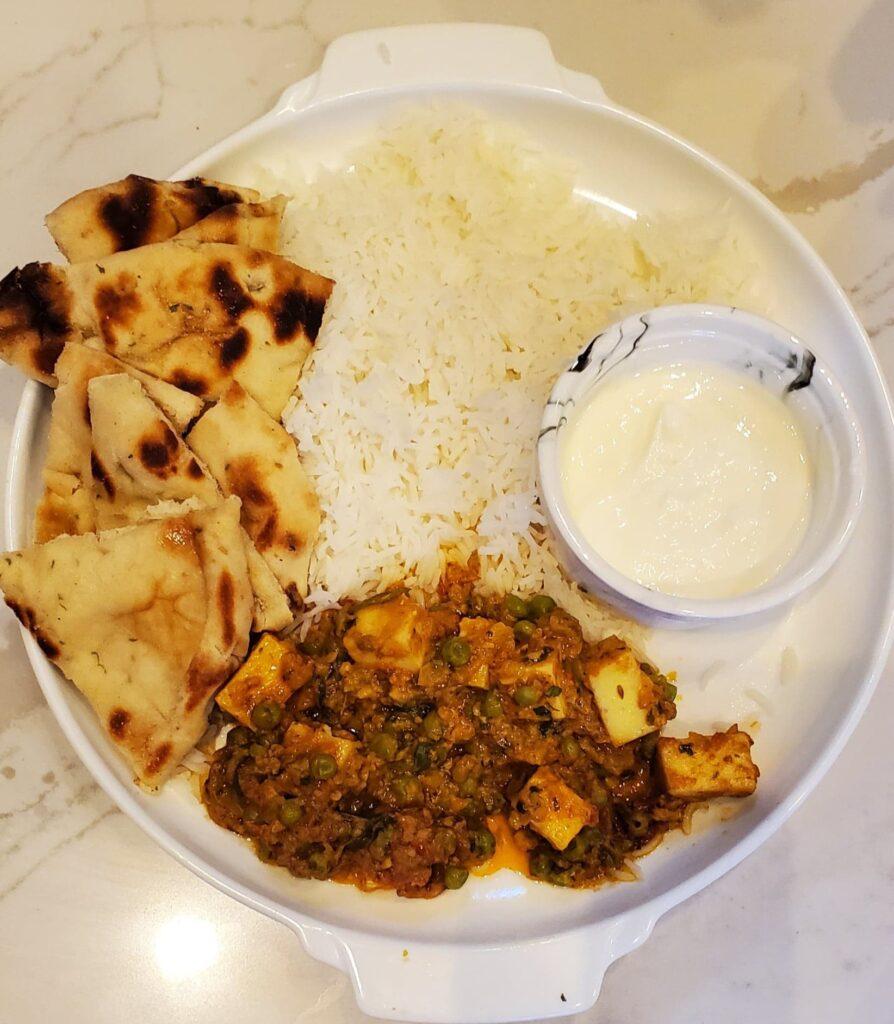 I have always been fascinated with Indian cooking because of its focus on mostly vegetarian dishes. I also am intrigued by the techniques or ways of how the recipes build flavour.
Years ago, I lived with my aunt for a period of time and she made Indian food all of the time. I was almost instantly hooked on Indian food from then on! She would make everything from masala tea to Matar paneer to tandoori chicken. It was so delicious!
Matar Paneer is a super easy recipe to make once you are prepared. I would suggest to have all of your spices measured out before you begin the process.
Where to get the spices? I was able to find all of the spices and paneer ingredients at Walmart in the International aisle and online. If you have an Indian grocery store in your area you will also be able to find the spices there.
The Masala Technique:
Most Indian recipes will begin with a Masala or "Gravy". The masala will usually consist of frying onions in oil and then adding a garlic & ginger paste followed by tomatoes. The real trick here is to cook it down long enough and until it turns into a dark tomato paste colour. A trick or tip to know when the masala is ready; watch for the tomatoes to leave the side of the pan.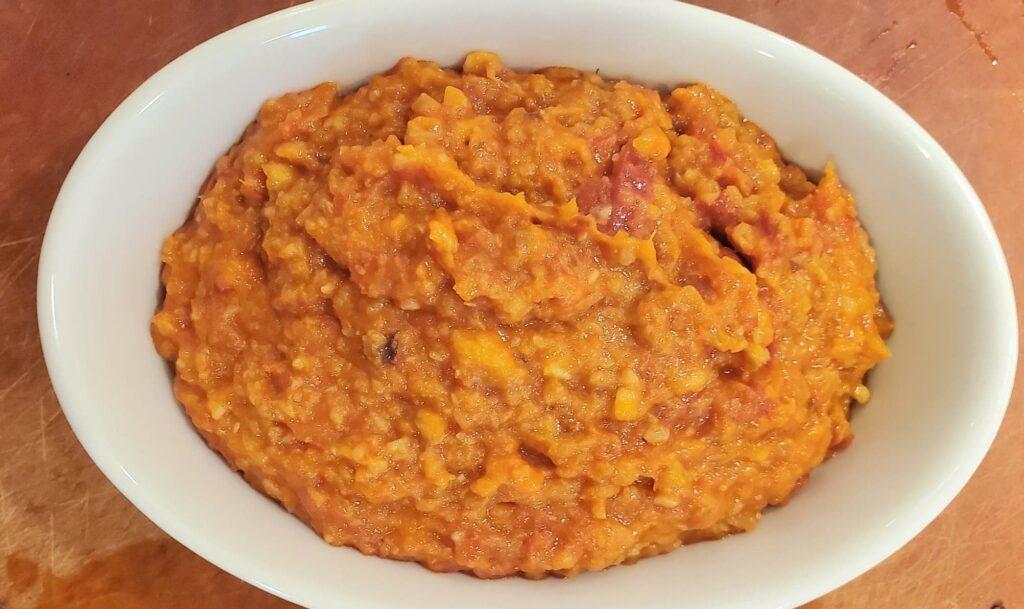 Ingredients for the Masala "Gravy":
Olive oil or Ghee – You need at least 2-3 tbsp. of oil to start. Your onions will need to cook long so you will need enough oil so they will not burn
Onions – You will need 1-2 red or vidalia onions chopped
Cashews – This adds a nuttiness and helps with thickening the gravy
Ginger paste and garlic paste – This is a real secret ingredient that is also a time saver!
Salt
Tomatoes
Puree the cooled mix and there you have it the: gravy or masala!
This Masala or Gravy could be store in the fridge for up to a week and used for the base of many Indian recipe dishes.
Now on to the main event!
Mater Paneer
Mater Paneer is easy and quick to make once you have the masala made. The main ingredients are peas, paneer and spices. Easy enough right? Well the spices can be a bit tricky. The blend of spices can be tricky and is important to follow the measurements of this recipe first and then you can adjust it from if necessary. I have had some epic fails because the spices were not balanced!
What is Paneer?
Paneer, also known as ponir or Indian cottage cheese, is a fresh acid-set cheese common in the Indian subcontinent made from cow or buffalo milk. It is a non-aged, non-melting soft cheese made by curdling milk with a fruit- or vegetable-derived acid, such as lemon juice. – Wikipedia
Is paneer vegan-friendly? No, traditionally paneer is not suitable for vegans as it's made from dairy-based milk – usually buffalo or cows. Paneer is however considered vegetarian and packed with protein.
Ingredients needed for the Mater Paneer:
Here are the list of ingredients to make the matar paneer. They are listed in the exact order for adding them to the frying pan.
Note: I prepared the list of spices in a small bowl prior to starting so that I could just sprinkle them in all together at once.
The blend includes: red chilli powder, coriander powder, methi powder, ground cumin, ground fennel, turmeric and salt.
Olive Oil – 2 tbsp.
Cumin Seeds – 1 tsp. (sizzle them in the oil before adding onion)
Onion – 1 small onion finely chopped
Red Chili powder – 3/4 tsp.
Coriander Powder – 3/4 tsp.
Kasoori Methi / Methi powder – 1/2 tsp.
Cumin Powder – 1/2 tsp.
Fennel Powder 1/2 tsp.
Turmeric Powder – 1/2 tsp.
Salt – 1/2 tsp.
Coriander Leaves or Cilantro 3 tbsp. chopped fine
Masala or Gravy blend
Ketchup – 1 tbsp.
Heavy Cream – 2 tbsp.
Water – 1 1/2 cups
Peas – 1 1/2 cups (I used frozen)
Paneer – 1 package 300g. cut into chunks
Garam Masala – 1/4 tsp. (added at the end and not with the other spices)
Directions for Making the Mater Paneer:
Now that you have everything ready it will come together quick. Make sure to have your masala ready and all the spices measured out.
Method:
1. For the Masala or Gravy: over medium / high heat, add in the oil. Add in the cashew and roast them for a minute or two.
2. Add in the onions and cook until golden. Approimately 7-10 minutes
3. After the onions are golden, add in the ginger garlic paste and stir for a minute.
4. Add in the chopped tomatoes, and cook until they turn a dark red colour (like a tomato paste) and when the tomatoes pull away from the pan. Turn off the heat and let it cool.
5. Blend in a food processor to a make a paste.
For the Matar Paneer:
1. Add in the oil and after it gets hot, add in the cumin seeds. After they sizzle maybe a minute or so, add the onions and cook for a minute.
6. Lower the heat, and add the spices – red chilli powder, coriander powder, cumin powder, methi powder, ground fennel, ground turmeric and salt. Roast the spices for 2-3 minutes on low.
7. Add in the finely chopped cilantro and continue to cook for a minute. Add the masala or gravy blend, ketchup, cream and stir.
8. Add in the Peas, Ginger, along with 1-1/2 cups water to adjust the consistency. Cook out the water for a couple minutes, then add in the cubes of paneer.
9. Finally, sprinkle in a touch of garam masala and then turn off the heat.
Enjoy!
How to Serve the Matar Paneer?
I love to serve the Matar Paneer with basmati rice, plain yogurt and especially Naan bread! This will make you very happy. It is really, really good! Please let me know what you think about this recipe! I love to hear feedback or suggestions! Happy Cooking!