---
This chicken tomato pasta recipe can be made in 25 minutes, it's healthy and tastes great! The whole family will love this dish! Spread dollops of ricotta cheese, slice up a baguette make a salad and voila! There you have dinner, easy and delicious!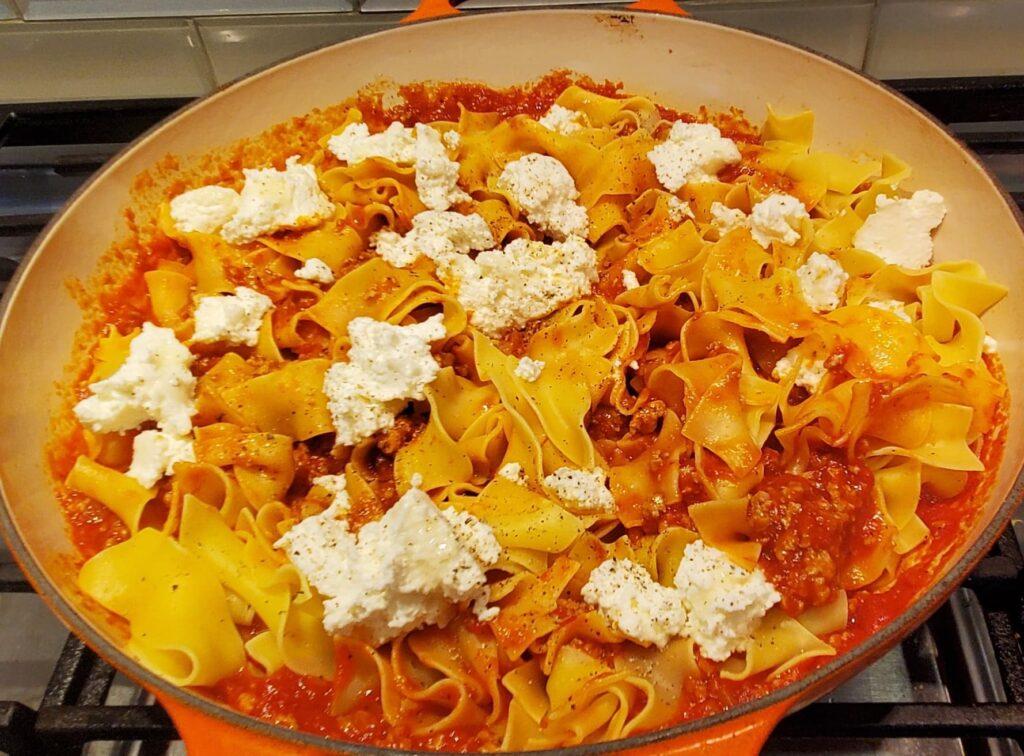 For this recipe I used a broad egg noodle that I picked up at a European market in my town. They were a nice sized noodle and coated the tomato sauce perfectly. I also love replacing traditional ground beef with ground chicken. It has a clean taste is less greasy and it is healthier for you. Here is a list of the ingredients that I used to make this quick healthy ground chicken tomato pasta: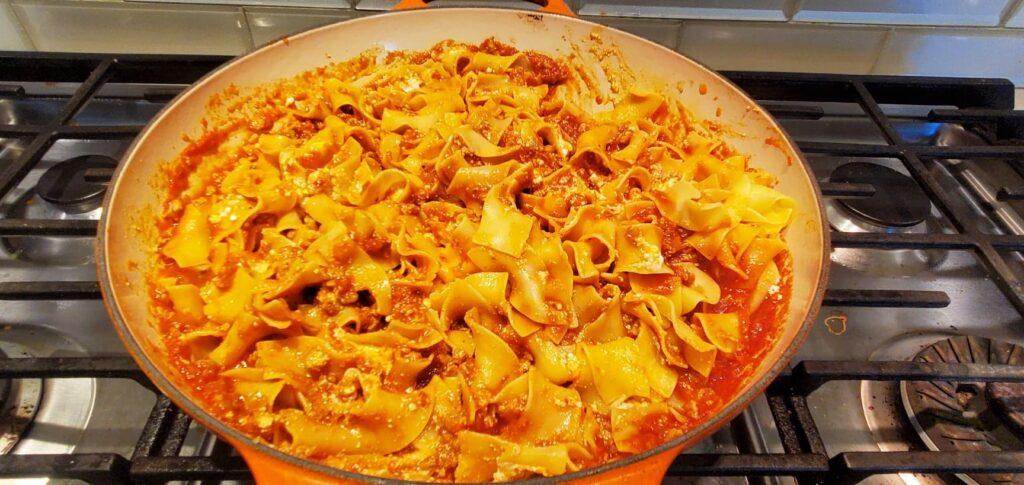 Directions:
For the Ground chicken:
In a skillet, add 1 tbsp. olive oil and brown the chicken until it is cooked and no longer pink. Add in 2 tsp. of chicken stock powder, salt and pepper. Set aside.
For the sauce:
Add olive oil to a skillet over medium high heat .
Saute the onion, for 8-10 minutes
Add in the garlic. Cook for only 1 minute longer
Add in the tomato paste and cook out the bitterness for approximately 3 minutes
Pour the sauce and water into the skillet. Stir and Simmer for 10 minutes
Add the ground chicken to the sauce and stir. Done.
Boil Noodles according to the package. Drain. Add the noodles to the skillet and stir it all together.
Spoon dollops of ricotta cheese to the top of the pasta, put the lid on the skillet so the ricotta cheese melts into the sauce. Serve with garlic bread and a nice tossed Salad!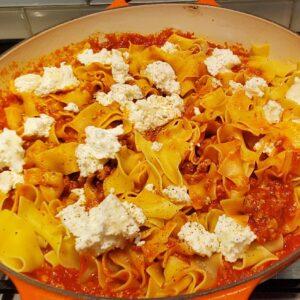 Healthy Chicken Tomato Pasta Recipe
Ingredients
1/4

cup

extra-virgin olive oil

1

medium onion

finely chopped

2

cloves

garlic

1

can tomato paste

1

jar Rao's Marinara Pasta Sauce

1

lb.

ground chicken

1

cup

water

1

tsp.

crushed red pepper

2

tsp.

salt

2

tsp.

sugar

1

package of broad egg noodles
Instructions
Directions:For the Ground chicken:

In a skillet, add 1 tbsp. olive oil and brown the chicken until it is cooked and no longer pink. Add in 2 tsp. of chicken stock powder, salt and pepper. Set aside.

For the sauce:Add the ground chicken to the sauce and stir. Done.

Boil Noodles according to the package. Drain. Add the noodles to the skillet and stir it all together. Add olive oil to a skillet over medium high heat .Saute the onion, for 8-10 minutesAdd in the garlic. Cook for only 1 minute longerAdd in the tomato paste and cook out the bitterness for approximately 3 minutesPour the sauce and water into the skillet. Stir and Simmer for 10 minutes